SEGS 2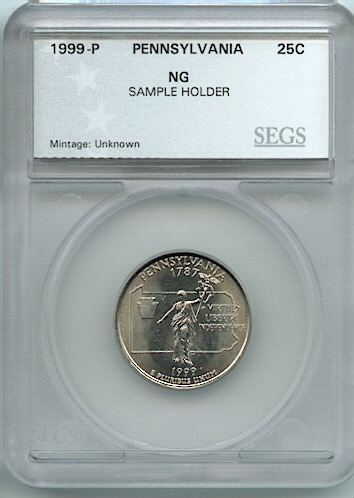 The first of the State Quarter sample slabs has a 1999-P Pennsylvania quarter. The line where the grade would appear has "NG" which stands for No Grade. Below is "Sample Holder." "Sample Holder" is only known to be on Pennsylvania samples, since with the next State Quarter sample, SEGS changed the inscription.
SEGS 2.1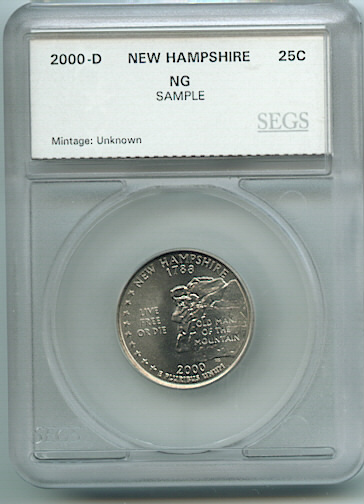 "Very similiar to SEGS 2, this slab has "Sample" below "NG" instead of "Sample Holder."
SEGS 2.2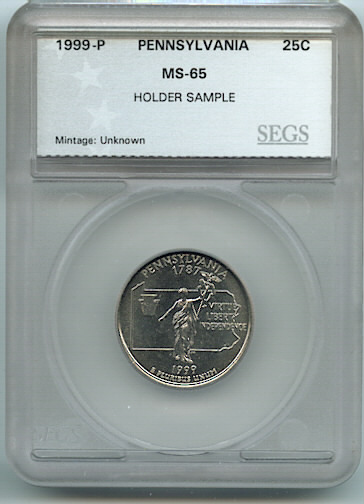 This slab was recently discovered and suprised me when I saw it. It has a numerical grade instead of "NG" and has "Holder Sample" instead of "Sample Holder." I don't know if this slab goes before or after NGC 2 since it has the exact same quarter inside. I have only seen one of these so far, but wouldn't be suprised if more showed up over the next year. Look closely on your SEGS sample slabs. "Holder Sample" and "Sample Holder" looks almost the same. The easiest way to tell is with the numerical grade above.
SEGS 2.3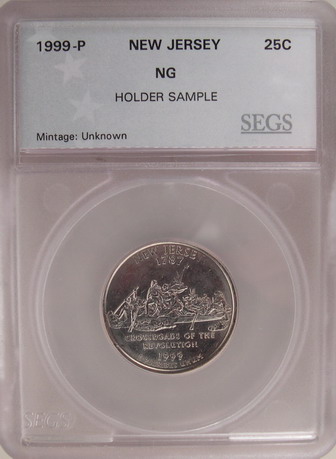 This sample has "Holder Sample" instead of "Sample Holder" like SEGS 2, and also has "NG" instead of a grade.
---