Global
(Global Certification Service)
Global began slabbing coins in November of 2001. Their slab is a fall back of the earlier photo slabs with a picture of the coin on the right hand side. They added a feature to the earlier photoslabs by doing a nice write-up on the coin or ruler of the time period on the reverse of the slab. Few people have used them and their slab has not caught on. Global is still in business though.
Global 1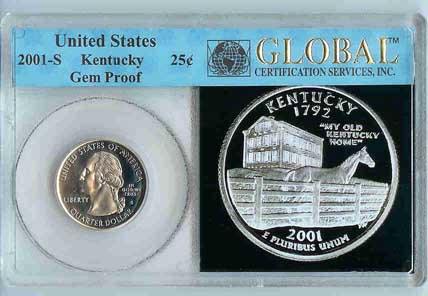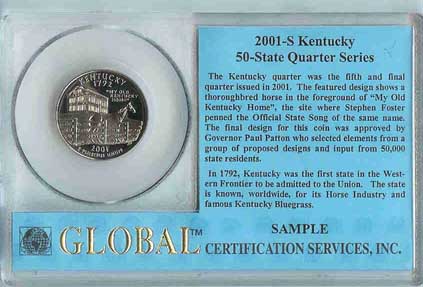 Global's sample can easily be recognized with the word "sample" on the back where the certification number would be. It contains a Vermont or Kentucky State Quarter.
---
Global 2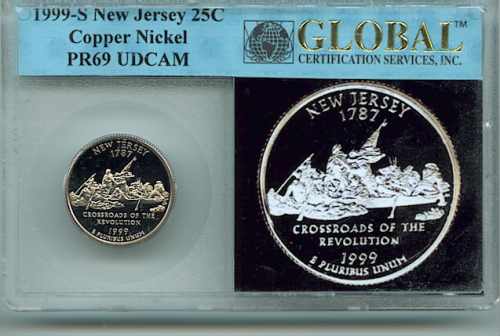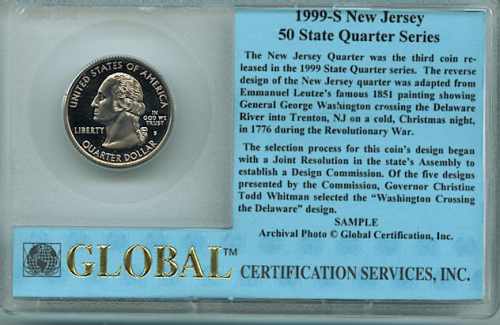 This sample has a radical change in the label placement of all the words and designations on the front. Almost every one has been moved and "United States" on the top of the label has been taken off. On the back "sample" is in smaller bold letters and "Archival photo Global Certification, INC." was added below. This sample also has a proof State quarter but the State side is facing out to draw more attention to it.